[E-COMMERCE]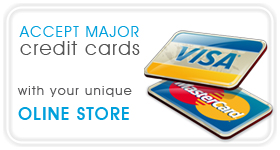 Electronic commerce or ecommerce is a term for any type of business, or commercial transaction, that involves the transfer of information across the Internet. It covers a range of different types of businesses, from consumer based retail sites, through auction or music sites, to business exchanges trading goods and services between corporations. It is currently one of the most important aspects of the Internet to emerge.
Ecommerce allows consumers to electronically exchange goods and services with no barriers of time or distance. Electronic commerce has expanded rapidly over the past five years and is predicted to continue at this rate, or even accelerate. In the near future the boundaries between "conventional" and "electronic" commerce will become increasingly blurred as more and more businesses move sections of their operations onto the Internet.
The road to creating a successful online store can be a difficult if unaware of ecommerce principles and what
ecommerce is supposed to do for your online business. Researching and understanding the guidelines
required to properly implement an e-business plan is a crucial part to becoming successful with online store building.
What do you need to have an online store and what exactly is a shopping cart?
Shopping cart software is an operating system used to allow consumers to purchase goods and or services, track customers, and tie together all aspects of ecommerce into one cohesive whole.
To start an online business it is best to find a niche product that consumers have difficulty finding in malls or department stores. Also take shipping into consideration. Pets.com found out the hard way: dog food is expensive to ship FedEx! Then you need an ecommerce enabled website. This can either be a new site developed from scratch, or an existing site to which you can add ecommerce shopping cart capabilities.
The next step, you need a means of accepting online payments. This usually entails obtaining a merchant account and accepting credit cards through an online payment gateway (we recommend method of accepting payments such as PayPal).
Ecommerce feature list
This is a comprehensive list of features we offer for the Ecommerce shopping cart. The software behind all the designs.
Store Administration
Full online control panel for simple admin management
Dynamically populate product pages without the need to touch the database
Password protected
Content management system integrated
Restrict admin pages depending on login
Simple process for adding / modifying / deleting products and categories
Full online order viewing by date selection and search
Product search within the admin section
Editable order details
Affiliate program included with online viewing of affiliate sales
Optional Customer login for order history viewing and creating accounts
Downloadable product inventory
CSV database upload
Language specific admin available
Up to 3 languages supported from the same database
Access / MS SQL Server / mySQL database.
Product / category options
Unlimited number of products
Upselling of related, bestselling, recommended products as well as suggesting products purchased by other customers
Product reviews and ratings feature
Gift certificate feature
Gift registry and wish lists
Spry tabbed panels
Show recently viewed items
Show multiple currencies
Place products in several categories
Allow customers to filter products by keyword, price, grouping etc
Extra detail page for more detailed product descriptions with layout options
Show multiple product images
Image upload
Allows for use of HTML in product descriptions to make formatting simpler
Setup and assign Designers / Manufacturers / Drop Shippers to products and send them order details if required on receipt of orders
Manufacturers page
Donations feature
Provision of coupons so clients can purchase at a discounted rate by entering their coupon code
Apply discounts by product or category depending on total purchase or quantity ordered
Specify the number of products per page
Choice of product and category layouts, using one or multiple columns of products
Optional images choice for categories
Choice of product listing by price, id, user choice or alphabetically
Product options allow for the selection of color, size etc.with price differences shown in real time - choose between drop down menus and radio buttons
Product option selection can change product image displayed
Multiple purchase feature for product options
Allow clients to type in their own requirements for a particular product
Product options can have their own product ID
Clone products and product options for faster input
Filter results option for products page
Wholesale / retail pricing depending on login
Quantity pricing option
Option of showing the "buy" button or an "Out of stock message".
Option of maintaining a product in your inventory but not showing on the store
Stock management feature permits you to define the number of products in stock, and the store will
automatically generate an "Out of stock" message once the last item in stock has been purchased
Notify customer email when stock is replenished
Stock management for product options
Show number of products in stock on the products page
Set minimum purchase total requirement
Email to friend link option - product specific
Choice of currency symbols and formatting
Change all store generated language from one place
Option to remove buy / checkout buttons making the plus version compatible for other uses eg. real estate listings, online catalog etc
Order categories to suit your needs
Option of showing list price / your price
Show product ID, SKU, Manufacturer on the product pages.
Shipping / checkout features
Weight based shipping by zone
Flat rate shipping
USPS shipping rate integration and order tracking
UPS shipping and order tracking
FedEx shipping and order tracking
Canada Post
Free shipping option (choose by country and / or total order or number of items purchased)
Price based shipping
Shipping estimator before checkout
Streamlined checkout process
Saved cart for non-logged in customers
Customer shipping carrier selector
Provide a different shipping method for international customers in respect to domestic buyers
Global handling charge option
Handling charge per payment provider
Handling exempt products
Offer customers a tracking number
Compatible with all major tax systems (including Australia & Canada)
Offline credit card processing
Complete integration with the top payment processors, and / or email notification only
Manual order creation
Order status look up page for customers
Automatic email to customers on order status change
Integrates PayPal's Instant Payment Notification for secure order processing
Cardinal Commerce 3D Secure system to provide Verified by VISA, Mastercard SecureCode and J/Secure functionality
Email notification once an order has been placed
Printable receipt on thanks page
Google Analytics ecommerce tracking
HTML header and footer for the confirmation email
Download orders to a .csv file
Print packing slips from the admin orders page
Print invoices from the admin orders page
Collect email address on checkout
Send out newsletters
Filter newsletter recipients by product purchased, location, wholesaler etc
"Remember me" option for return users
Javascript and Cookie disabled detection
Block IPs or IP ranges.
* For development environment we require a UNIX / Linux server with a minimum of PHP 4.1 and a mySQL database. For hosting and domains please click here!
** If you don't know where to start please contact us for private consultation.